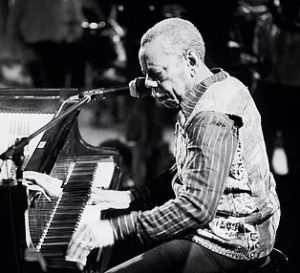 By Doyle M. Pace, originally published in the November and December 1993 Blues News
Last year was a sad and unfortunate year for the blues. Before 1992 was half over, three giants – Champion Jack Dupree, Willie Dixon, and Johnny Shines – had passed from the scene. Dupree, the first of the three to go, hadn't lived in this country for the past 30 years, and he was at his home in Hanover, Germany, when he died. However, he had recently been reaching new audiences in America through highly-successful appearances in 1990 and 1991 and through the release of his first American recordings in more than 30 years.
Jack Dupree's triumphant return to this country was in New Orleans, the city of his origins. He was born in that city's rough and rowdy lrish Channel on the Fourth of July, 1910. William Thomas Dupree (his real name) was the youngest of five children, and was still a baby when both parents were killed in a fire that destroyed their home. He was placed in the New Orleans Colored Waifs' Home, being there concurrently with another future musician of some fame – Louis Armstong. Dupree later said that the two never became friendly, because Armstrong was several years older.
ln the orphanage, young Dupree got a graduate course in the meaning of the blues. He led a miserable life, feeling lonely and abandoned, emotions that he often expressed in his musical compositions. At the age of 14 Dupree left the Waifs' Home and tried to rejoin his older siblings, but they apparently wanted nothing to do with him, so he began a homeless existence in the streets of New Orleans.
While in the Waifs Home, Dupree had demonstrated an aptitude for singing, a talent that helped him survive his vagrant life. He wandered around the French Quarter and the raunchier red light district along Franklin and Rampart Streets, singing on the corners for tips. Sometimes he would be allowed to step inside the barrelhouses to ply his trade, and it was in one of these joints that Dupree came under the influence of a character called "Drlve-em-Down," a piano player, from whom he learned to pound out the powerful rhythms of the barrelhouse piano.
It wasn't long before Dupree had moved in from the streets to become a regular saloon performer as a solo act. He played as well with some of the famous New Orleans bands, such as those of Kid Rena and Papa Celestine.
Another of Dupree's talents that was nurtured by the savage streets was that of pugilism.  He started sparring at Kid Green's boxing school on Rampart Street, at first to pick up a few extra dollars, but soon became a member of Green's boxing team. This is when he acquired the name "Champion Jack," a handle that stayed with him after he left the ring. In a career that lasted for nearly a decade, Dupree was only knocked out twice in 107 bouts. He fought his last fight in the ring in 1940.
ln slack times between music gigs and boxing bouts, Dupree hoboed around a lot. By the time he was 17, he had made his way up the Illinois Central Line to Chicago. lt was here that he met and hung around with boogie-woogie piano player Pinetop Smith.  In fact, Dupree claimed to have been present when Smith was shot through the head as he sat at the piano in a Southside Chicago bar.
In 1950, Dupree made a definitive move from New Orleans to lndianapolis, where he settled into the local blues scene, playing alongside such notables as Leroy Carr and Scrapper Blackwell.   THE COTTON CLUB was a large theater nightclub that had been lndianapolis' premier blues venue when Leroy Carr was the star piano player. But due to the ravages of the Depression, the big club was on the wane when Champion Jack Dupree came to occupy the piano chair.  Nonetheless, the floor show revue that Jack put together, featuring singers, comedians, and dancers, was soon packing the house every night, and received much critical praise in the local press.
Dupree's success at THE COTTON CLUB caught the attention of the record producer Lester Melrose, who brought him to Chicago for a recording session in the summer of 1940. Scrapper Blackwell had come along to play guitar and the session produced some memorable sides, particularly the barrelhouse number "Cabbage Greens," and the more plaintive 'Angola Blues."
In 1940, Dupree was drafted into the United States Navy, where he served in the Pacific until his release in 1945. Instead of returning to lndianapolis, where memories of his wife's recent death were still painful, he chose to stay in New York City and resume his musical career.
In 1945, after Champion Jack Dupree was discharged, he set out to restart his musical career. The hitch in the navy had in no way diminished his powerful blues voice or his barrelhouse piano style. However, having been out of the musical scene for five years, as well as having settled in a new city (New York) instead of going back to Indianapolis, made Dupree's comeback more difficult than he expected.
Even though Dupree was in the studio fairly frequently, recording didn't bring in enough income to support his family, and club work was spotty and penurious. Since he'd remarried in 1948, and he had the children from his first marriage, Dupree needed a steady income. Being multi­talented and resourceful, he used his knack for Creole cooking (recently revived by his job as naval cook), to find a position at New York's Yeshiva University. He later remarked that he was "cookin' for rabbis, because in my time, they didn't like so much blues in New York."  Subsequently, he applied his culinary skills at various restaurants around the Big Apple.
Dupree continued to perform whenever he could, and he recorded for several New York labels, including Apollo, Savoy, King, and Moses Asch's Folkways.  In the 1950s, Dupree often worked and recorded with Sonny Terry and Brownie McGhee, who at that time were the darlings of the nascent New York folk music scene.  Some of the sides that Dupree cut with the Terry/ McGhee team for Apollo were excellent (as well as money makers).
On the recordings "I'm Gonna Find You Someday" and "The Deacon's Party," in addition to Terry and McGhee, Dupree used Wilbert "Big Chief" Ellis on piano and Mickey Baker on second guitar.  Dupree only sang. These records were re-released by Apollo as being by Jack Dupree & His Bucket Busters and Jack Dupree-Original Singers de Luxe, respectively.
Dupree switched to the King label in 1953, and continued to make some outstanding recordings.  As sidemen, he again used Mickey Baker and harmonica players "Papa" Lightfoot and George "Harmonica" Smith. The success of "Walking The Blues," "Stumbling Block," and "Me and My Mule" led to a contract with RCA.  Dupree cut some of his best sides for RCA, some of which are still available on the reissue album, Shake Baby, Shake.
Since his childhood, Dupree had had a hankering to travel.  Attributing his roving nature to what he called a "rollin' mind," he frequently left New York to tour the country, sometimes for several months.  In 1955, he traveled throughout the Southwest with his own revue, reminiscent of his COTTON CLUB shows back in Indianapolis.  A couple of years later he went with the Nappy Brown Revue, working in theaters all across the country.
By now, finding work as a musician was easier for Dupree, and in 1958 he began an extended gig at THE CELEBRITY CLUB in Freeport, New York. This lasted for almost a year, ending only when he accepted an offer to tour England. This was to be a fateful trip for Dupree, for he never again resided in the United States.
Like many African-American veterans, Dupree was disillusioned with his treatment when he returned from the war.  In England he found a social acceptance and appreciation for his music that made him decide to never again live in America. In 1958, he cut a wonderful album for Atlantic Records, Blues from the Gutter, which made him a star in Britain and Europe. He often called it his "all-purpose hit," because it appealed to everyone.
Jack Dupree's flamboyance and showmanship were "delightful curiosities" to Europeans, and he won over audiences wherever he appeared. He became the idol of fledgling British rockers, and he often jammed with and encouraged the likes of Eric Clapton and Mick Jagger.  Dupree recorded extensively in Europe, both as a solo performer and with an assortment of other artists, but none quite equaled the sides he had cut in the early 1950s.
Dupree was especially proud of an album recorded in 1985 with other ex-patriots Memphis Slim and his old sideman, Mickey Baker, to celebrate his 75th birthday. Dupree referred to it as "rollicking boogie-woogie," and expressed the fear that the sound was lost on the younger generation of blues musicians.
In spite of the accolades and enthusiastic welcome he received when he finally returned to New Orleans to appear at that city's Jazz & Heritage Festival in 1990 and 1991, Dupree didn't think of it as an exalted homecoming, but as just another gig to do before getting back to his "real home" in Germany.  While he was in the U.S., Dupree did record two final albums, Back Home in New Orleans and Forever And Ever, released by Bullseye Records.
Champion Jack Dupree once said, "I'm a bluesman and I'm gonna die that way," and that's exactly what he did. He was still active and playing his barrelhouse piano when he succumbed to cancer at the age of 82 in January, 1992.